Frasi motivazionali in inglese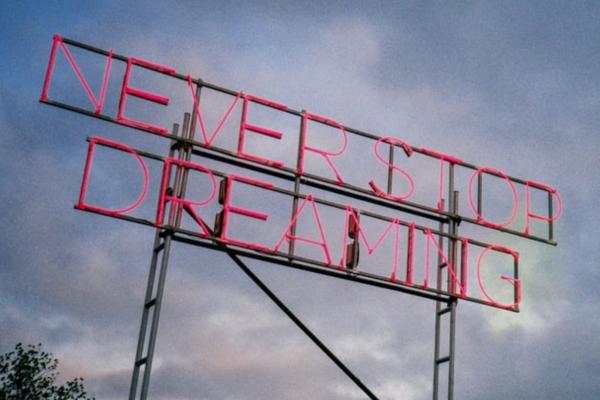 Le parole hanno un grande potere sulla nostra mente; l'autosuggestione e la motivazione possono spingerci a cercare il meglio di noi stessi, il linguaggio e il pensiero, quindi, possono persino cambiare il nostro atteggiamento.
Per migliorare la tua autostima e raggiungere obiettivi più difficili, abbiamo creato questo articolo con frasi motivazionali in inglese che ti aiuteranno a dare il tuo 100% e che potrai condividere sui tuoi stati di Instagram o WhatsApp.
Frasi motivazionali in inglese sulla vita
Nella nostra vita quotidiana, non sempre abbiamo la motivazione necessaria per affrontare certi compiti. Il nostro cervello è sempre alla ricerca di comodità, e attività come lavorare o fare sport non sempre trovano la motivazione necessaria. Cambia questo atteggiamento ed esci dalla tua zona di comfort con queste frasi motivazionali in inglese sulla vita.
Life is 10% what happens to you and 90% how you react to it. (La vita è un 10% quello che ti succede e un 90% come reagisci.)
You will never win if you never begin. (Non vincerai mai se non cominci mai.)
Always do your best. What you plant now, you will harvest tomorrow. (Fai sempre tutto ciò che puoi. Quello che pianti oggi, lo raccoglierai domani.)
Only I can change my life. No one can do it for me. (Solo io posso cambiare la mia vita, nessuno può farlo per me.)
Don't limit your challenges. Challenge your limits. (Non limitare le tue sfide, sfida i tuoi limiti.)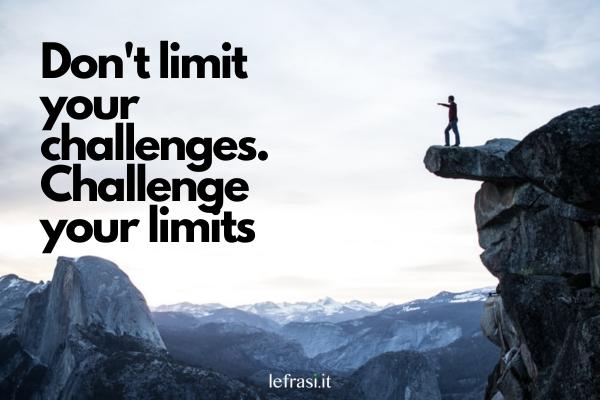 Mindset is what separates the best from the rest. (La mentalità è ciò che separa i migliori dal resto.)
Whatever you decide to do, make sure it makes you happy. (Qualsiasi cosa tu decida di fare, assicurati che ti faccia felice.)
Stop only when you're proud. (Fermati solo quando sei fiero.)
Today is another chance to get better. (Oggi è un'altra opportunità per migliorare.)
The biggest source of motivation are your own thoughts, so think big. (La miglior fonte di motivazione sono i tuoi pensieri, quindi pensa in grande.)
Just because you're a work in progress doesn't mean that you aren't already a work of art. (Il fatto che tu sia ancora un progetto in fase di creazione non significa che tu non sia già un'opera d'arte).
We become what we think about. (Diventiamo quello che pensiamo.)
Never stop doing your best just because someone doesn't give you the credit you deserve. (Non smettere mai di dare il meglio di te solo perché qualcuno non ti dà il credito che meriti).
It does not matter how slowly you go as long as you do not stop. (Non importa quanto lentamente tu vada, l'importante è che non ti fermi).
If you can dream it, you can do it. (Se puoi sognarlo puoi farlo.)
The secret of getting ahead is getting started. (Il segreto di andare avanti è cominciare.)
Keep your eyes on the stars and your feet on the ground. (Tieni gli occhi sulle stelle e i piedi per terra.)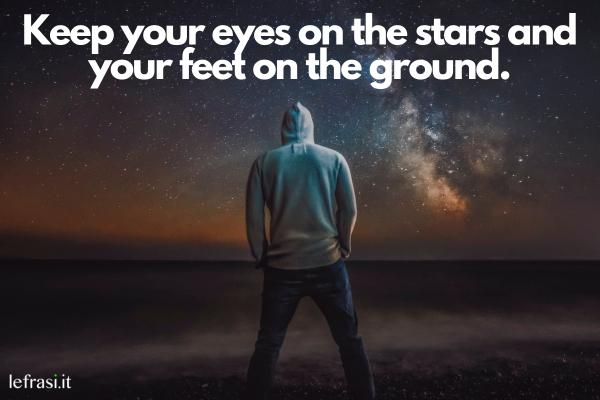 In order to succeed, you must first believe that you can. (Per avere successo, devi prima credere che sia possibile).
The way to get started is to quit talking and begin doing. (Per cominciare, smetti di parlare e inizia a fare.)
Difficult roads lead to beautiful destinations. (Le strade difficili portano a bellissime destinazioni.)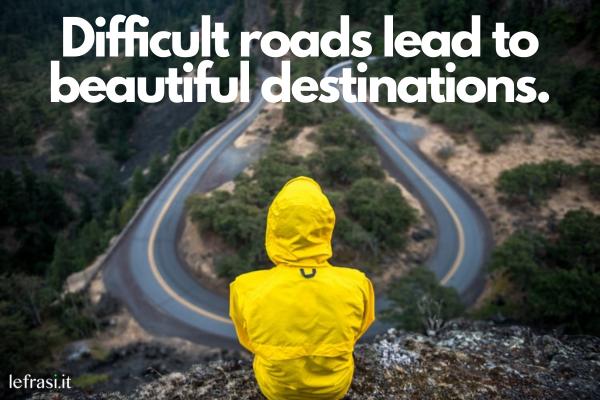 Frasi motivazionali in inglese tradotte
Nella nostra lista di frasi motivazionali in inglese, troverai citazioni perfette per i tuoi social e per sollevare il morale di chiunque ne abbia bisogno.
Qual è la tua preferita?
Change your life today. Don't gamble on the future, act now, without delay. (Cambia la tua vita oggi; non speculare sul futuro, agisci ora).
The best way to predict the future is to invent it. (La miglior maniera di predire il futuro è inventarlo.)
Things work out best for those who make the best of how things work out. Le cose funzionano meglio per coloro che trovano il meglio di come sono andate le cose.)
To live a creative life, we must lose our fear of being wrong. (Per vivere una vita creativa dobbiamo perdere la paura di sbagliare.)
Trust because you are willing to accept the risk, not because it's safe or certain. (Fidati perché sei disposto a correre il rischio, non perché sei completamente sicuro).
In the end, we only regret the chances we didn't take. (Alla fine, rimpiangiamo solo le occasioni che non cogliamo).
Kill them with success and bury them with a smile. (Uccidili con il successo e seppelliscili con un sorriso)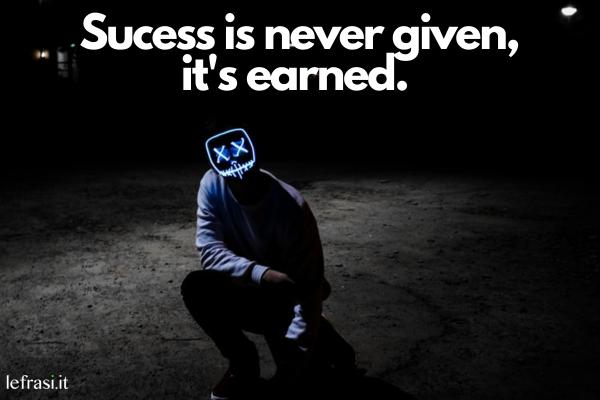 Age is no barrier. It's a limitation you put on your mind. (L'età non è una barriera. È un limite che crei nella tua mente.)
Sucess is never given, it's earned. (Il successo non ti viene mai dato, ma guadagnato.)
I have not failed. I've just found 10,000 ways that won't work. (Non ho fallito, ho solo trovato 10.000 modi in cui non funziona).
Success is walking from failure to failure with no loss of enthusiasm. Il successo è passare da un fallimento all'altro senza perdere l'entusiasmo.
The dreamers are the saviors of the world. (I sognatori sono i salvatori del mondo.)
Life is change. Growth is optional... choose wisely. (La vita è cambiare. Crescere è opzionale.. scegli saggiamente.)
I can and I will, that's all that matters. (Posso e lo farò.. è l'unica cosa che importa.)
When it rains look for rainbows, when it's dark, look for stars. (Quando piove cerca arcobaleni e quando è buio cerca le stelle.)
If you're not making mistakes, you're not doing anything. (Se non stai facendo errori,non stai facendo niente.)
You cannot have a positive life and a negative mind. (Non puoi condurre una vita positiva con una mente negativa.)
Excue me while I kiss the sky. (Scusami mentre bacio il cielo.)
Stay close to people who feel like sunshine. (Stai vicino a quelle persone che sono come raggi di sole.)
A goal is a dream with a deadline. (Un obiettivo è un sogno con una scadenza)
Happiness is when what you think, what you say, and what you do are in harmony. (La felicità è quando ciò che si pensa, ciò che si dice e ciò che si fa sono in completa armonia).
Don't count the days, make the days count. (Non contare i giorni, fai che i giorni contino.)
Frasi motivazionali in inglese
Poche cose possono motivarci ad agire più dell'amore; si dice che l'amore può fare tutto, che muove il mondo e ci spinge a compiere le pazzie più inimmaginabili.
Sentitevi liberi di dedicare alcune delle nostre frasi motivazionali d'amore in inglese a quella persona speciale - le adoreranno!
Trust in dreams, for in them is hidden the gate to eternity. (Crdi nei sogni, in loro è nascosta la porta per l'eternità.)
It is during our darkest moments that we must focus to see the light. (Nei momenti più bui dobbiamo concentrarci sul vedere la luce.)
The power of imagination makes us infinite. (Il potere della nostra immaginazione ci rende infiniti.)
You must do the things you think you cannot do. (Devi fare le cose che non pensi di poter fare.)
Once you choose hope, anything's posible. (Una volta che scegli di avere speranza, tutto è possibile.)
I would rather die of passion than of boredom. (Preferirei morire d passione che di noia.)
Change your thoughts and you change your world. (Cambia il tuo modo di pensare e cambierai il mondo.)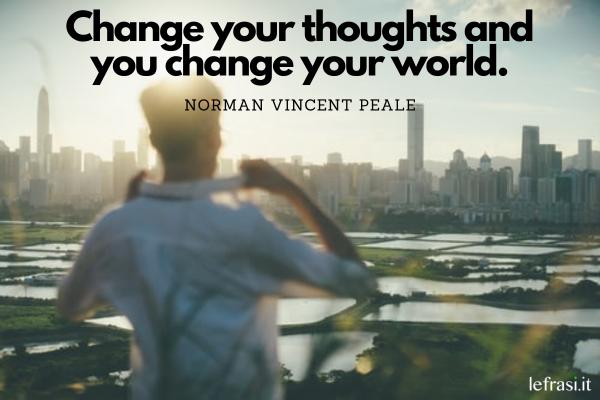 There is only one hapiness in this life, to love and to be loved. (C'è solo un tipo di felicità nella vita, amare ed essere amati).
L'autore ci parla del bisogno di amare e di essere amati. Nella nostra vita, l'amore gioca un ruolo centrale; viviamo con la persona che amiamo e ci circondiamo di persone che ci fanno sentire amati. Se vuoi goderti l'amore o ringraziare le persone che ami. da lefrasi.it abbiamo una lista di frasi d'amore, che fa per te.
A smile is happiness that you will find under your nose. Un sorriso è la felicità che si trova sotto il naso.
The best way to pay for a lovely moment is to enjoy it. (Il modo migliore per pagare un buon momento è quello di goderselo).
Frasi motivazionali in inglese corte
Un tempo si pensava che l'ispirazione provenisse dai geni o dalle muse, ma al giorno d'oggi sappiamo che l'ispirazione e la motivazione sono il prodotto della pratica e del duro lavoro. Le nostre frasi motivazionali in inglese corte ti aiuteranno a trovare quella spinta in più.
Well done is better than well said. (Ben fatto è meglio di ben detto.)
Try it again. Fail again. Fail better. (Provaci di nuovo. Fallisci di nuovo. Fallisci meglio.)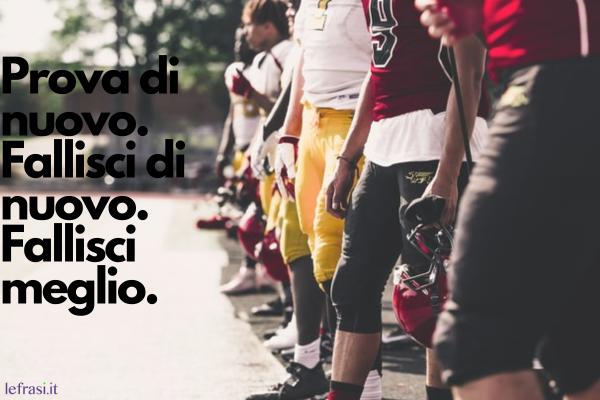 You should only look back to see how far you've come. (Solo si dovrebbe guardare in dietro per vedere quanto lontani si è arrivati.)
Every day you have a choice: stay the same or change. (Ogni giorni puoi scegliere: rimani uguale o cambia.)
Doubt kills more dreams than failure ever will. (Il dubbio uccide più sogni che il fallimento.)
Everything is theoretically impossible... until it's done. (Tutto è teoricamente impossibile... finché lo fai.)
Never be afraid to reinvent yourself. (Non avere paura di reinventarti.)
Your limitations are only in your imagination. (I tuoi limiti sono solo nella tua mente.)
Wake up, beauty, it's time to beast. (Svegliati bella, è ora di essere una bestia.)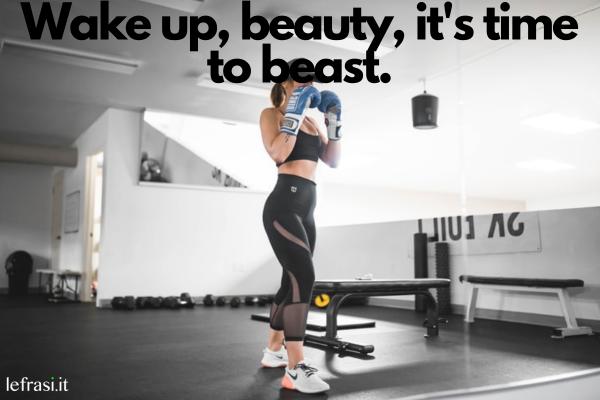 Hard work beats talent when talen't doesn't work hard. (Il duro lavoro batte il talento se il talento non lavora duro.)
Be brave. No one remembers a coward. (Sii coraggioso nessuno ricorda un codardo.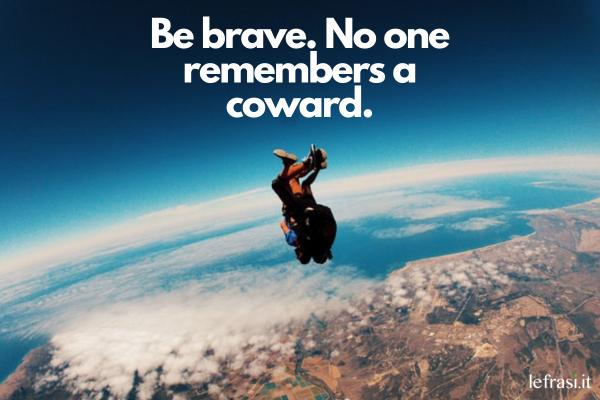 Seek respect, not attention. It lasts longer. (Cerca rispetto, non attenzione. Dura di più.)
Stars can't shine without darkness. (Le stelle non possono brillare senza luce.)
When you focus on the good, the good gets better. (Quando ti concentri sul buono delle cose, il buono diventa migliore.)
Try to be a rainbow in someone's cloud. (Cerca di essere un arcobaleno nella nuvola di qualcuno.)
Questa bella riflessione di Maya Angelou ci mostra che dobbiamo cercare di essere come un raggio di sole nella giornata nuvolosa degli altri, perché le nostre azioni, non importa quanto piccole, possono cambiare la giornata di qualcuno.
Se vuoi altre frasi motivazionali in inglese da condividere su Instagram, non perderti il nostro articolo 110 Migliori frasi per Instagram in inglese.
You change your life by changing your heart. (Cambia la tua vita cambiado il tuo cuore.)
Dream as if you'll live forever. Live as if you'll die today. (Sogna come se vivessi per sempre, ma vivi come se dovessi morire oggi.)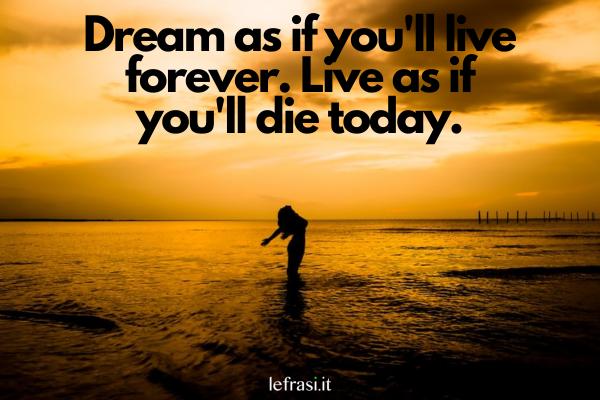 It's in your moments of decision that your destiny is shaped. (È nei tuoi momenti di decisione che si forma il tuo destino.)
You only live once. (Solo vivi una volta.)
Always seek out the seed of triumph in every adversity. (Cerca sempre il seme del trionfo in ogni avversità).
Love as long as you live. (Ama mentre sei in vita.)
If opportunity doesn't knock, build a door. (Se l'opportunità non bussa, costruisci una porta.)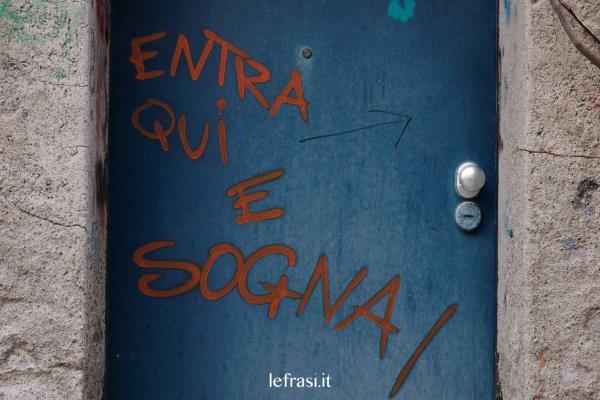 To improve is to change; to be perfect is to change often. (Migliorare è cambiare; essere perfetti è cambiare spesso.)
It wasn't raining when Noah built the ark. (Non stava piovendo quando Noè costruì l'arca.)
Be proud of how hard you are working. (Sii orgoglioso del tuo duro lavoro.)
With pain comes strength. (Dal dolore nasce la forza.)
Be the change you want to see in the world. (Sii il cambio che vuoi vedere nel mondo.)
Frasi motivazionali sullo sport in inglese
Perché le frasi motivazionali sullo sport in inglese sono fondamentali? Se c'è una disciplina in cui la motivazione è essenziale, è lo sport. Non importa quale sia l'attività, l'entusiasmo e l'ambizione sono imprescindibili per affrontare le grandi competizioni.
Se sei uno sportivo o se, semplicemente, ti piace fare sport nel tempo libero e hai bisogno di un po' di motivazione, ecco alcune frasi motivazionali per lo sport in inglese.
Start wide, expand further, and never look back. (Inizia forte, vai oltre e non guardare mai indietro)
No pain, no gain. (Senza dolore no c'è gloria.)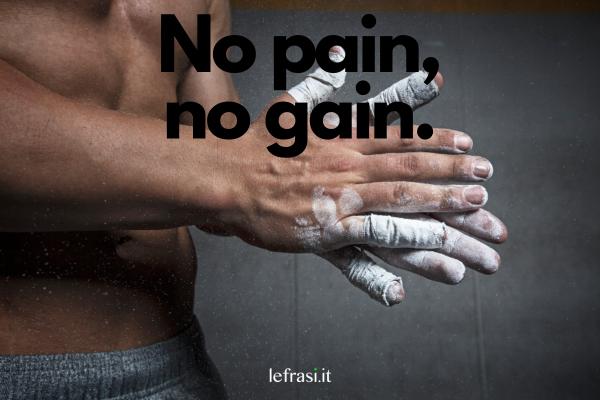 Go hard or go home. (Dai tutto o vai a casa.)
You must simply believe in your dreams. (Devi semplicemente chiedere nei tuoi sogni.)
Be strong. You never know who you're inspiring. (Sii forte non sai mai chi potresti star inspirando).
Keep calm and work out hard. ( Stai calmo e allenati duro.)
There are no shortcuts to any place worth going. (Non ci sono scorciatoie per quei posti a cui vale la pena andare.)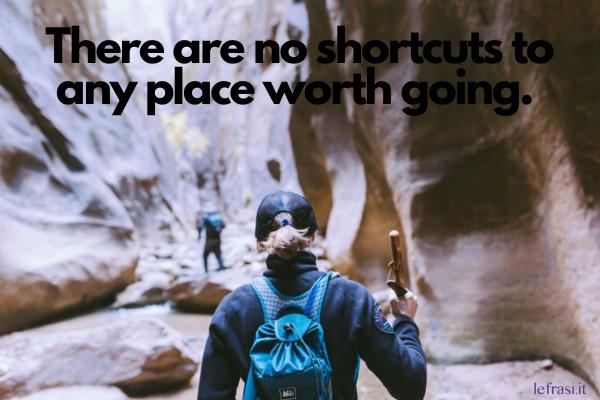 It's amazing what you can do when you try. (È incredibile quello che puoi fare quando ci provi.)
Today I will do what others won't so tomorrow I can do what others can't. (Oggi farò quello che gli altri non faranno, così domani potrò fare quello che gli altri non potranno fare.)
The more difficult the victory, the greater the happiness in winning. (Più difficile è la vittoria, più grande è la felicità nel vincere.)
Excellence is not a singular act but an habit. You are what you do repeatedly. (L'eccellenza non è un singolo atto, ma un'abitudine. Tu sei quello che fai ripetutamente)
Don't stop when it hurts, stop when you're done. (Non fermarti quando ti fa male, fermati quando hai finito.)
f it doesn't challenge you, it won't change you. (Se non ti sfida, non ti cambierà.)
But effort? Nobody can judge you because effort is between you and you. (Ma lo sforzo? Nessuno può giudicarti perché lo sforzo è tra te e te.)
Never say never. Limits, like fears, are often just illusions. (Mai dire mai. I limiti, come le paure, spesso sono solo illusioni.)
It never gets easier, you just get better. (Non diventa mai più facile, si migliora e basta.)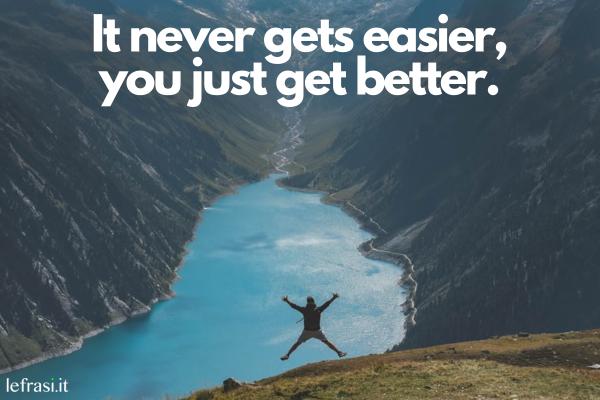 Without self-discipline, success is impossible. (Senza autodisciplina, il successo è impossibile. )
Always make a total effort. Even when the odds are against you. (Fai sempre uno sforzo totale. Anche quando le probabilità sono contro di te.)
f running is difficult, run more. (Se correre è difficile, corri di più.)
You are stronger than you think, and that's the truth. (Sei più forte di quanto pensi, e questa è la verità.)
Remember that guy that gave up? Neither does anyone else. (Ricordi quello che rinunciò? Neanche nessun altro lo fa.)
Una delle frasi sullo sport più potenti della lingua inglese, ci fa riflettere sul fatto che nessuno si ricorda di chi ha mollato e non è arrivato fino in fondo. Quelli che vanno lontano e hanno successo sono quelli che non gettano la spugna, quelli che fanno errori, imparano e si rialzano. Sei un vincitore?
Se vuoi conoscere altre frasi motivazionali sullo sport, non perderti questo articolo.
Slow progress is better than no progress. (Un progresso lento è meglio di nessun progresso.)
Every champion was once a contender that refused to give up. (Ogni campione è stato una volta un contendente che si è rifiutato di arrendersi.)
Do it now. Sometimes "later" becomes "never".(Fallo ora. A volte "più tardi" diventa "mai".)
Stop saying tomorrow... focus on today. (Smetti di dire domani...concentrati sull'oggi.)
Your body can do it. Now it's time to convince your mind. (Il tuo corpo può farlo, ora è il momento di convincere la tua mente.)
Se desideri leggere altri articoli simili a Frasi motivazionali in inglese, ti consigliamo di visitare la nostra categoria Frasi di Motivazione.